Founded by Emerson Kobak, Fashion For A Cause is a club at Staples High School that brings together students who share a passion for fashion and also the desire to help others. FFAC's main project is our annual fashion show in which the students design and create outfits that will be modeled. The money raised from each year's event is donated to an organization whose mission touches on our members' core beliefs.
The club meets weekly to work on the show, with student-led committees focusing on the different aspects of organizing the event. The majority of the design process is done at home by our passionate, dedicated student designers. We are all very excited to share our creations with you!
The second-annual Fashion For A Cause Fashion Show will be on Sunday, September 24th. All ticket sales and sponsor money will go to STOMP Out Bullying, a non-profit organization which "focuses on reducing and preventing bullying, cyberbullying, digital abuse, educating against homophobia, racism and hatred, decreasing school absenteeism, and deterring violence in schools, online and in communities across the country."
Powered by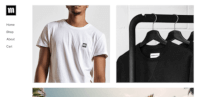 Create your own unique website with customizable templates.